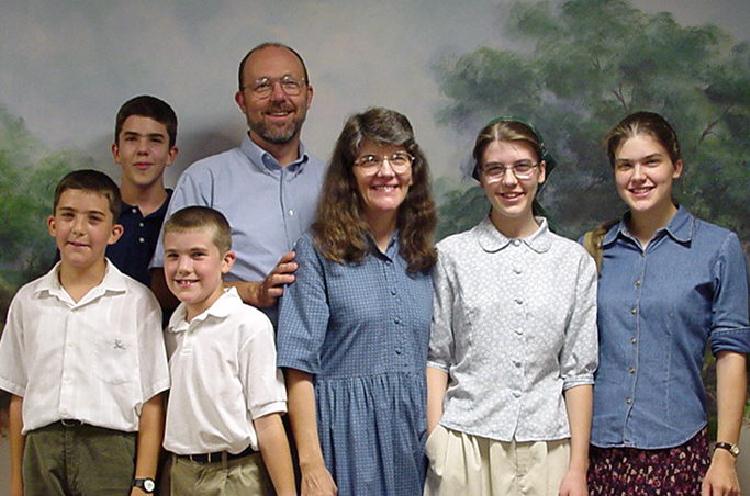 The saints at New Life Bible Chapel of Allendale, Michigan, commend our brethren Carl and Ruth Knott to the work of the Lord as He may lead them. Carl and Ruth are sound in the faith and are very committed to serving the Lord at His direction. Carl and Ruth have good and strong testimonies for the Lord. In the many years that we have known them they have displayed great love and zeal for the Lord in their lives. Carl and his wife Ruth are currently serving the Lord in Spain. Carl's current activities includes preaching, teaching, writing and translating literature into the Spanish language and training disciples. Carl also teaches and preaches in other Spanish speaking countries as well. Receive them in the Lord as becometh saints (Rom.16:2) .


"San Ramon Valley Bible Church" (Commendation letter of Carl & Ruth Knott,
from San Ramon Valley Bible Church.)
---
Asamblea Biblica "Betel"
Apartado 1313
41080 Sevilla, Spain
---
Dear Carlos and Ruth:
Thank you for your updates from California and from Sevilla. Your ministry is taking you everywhere. That is OK as the Lord is using you every where in blessing. And what a joy it is when He gives us fruit in each place to help us feel assured that we are in each place at His appointing. It often requires some one who is not a profit in his own country to bring the message. To speak to the eunuch leaving Israel in the South, God passed by the Apostles in Jerusalem and appointed and ordinary preacher in the North to go and talk to him.
Your girls are just now leaving with Elvia to go to Tocoa - about a 45 minute drive from here. We enjoyed having them at our breakfast table this morning along with our son Jack and his wife who we brought from the air port in La Ceiba yesterday afternoon. They will be back this afternoon..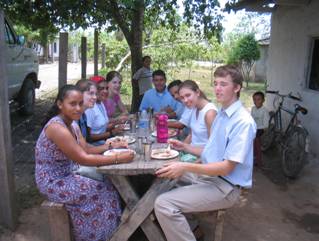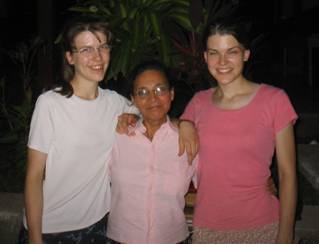 Thank you for the truly interesting sun glasses. I will have to try them on - especially while driving - to see if they can help my vision on the highway. The cataract in my right eye makes driving a fuzzy experience.
The top picture was taken when we were at the local conference in Francia . Your girls are with young women who are counselors at the school and with James Scollon, grandson of our former colleague who is visiting us from Lawrence Kansas. In the 2nd picture taken last night,.they are with doña Elvia, You may be able to expand the pictures on a Word document.
Keep rejoicing. Keep planting the good seed.
Yours in His Marvelous Loving kindness,
Stan and Esma Hanna