WHAT IS THIS FOOLISHNESS ABOUT
GAY RIGHTS?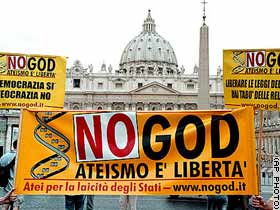 Do they mean this? The right to hate, insult and deny God?
HOMOSEXUALITY IS A SIN.
· IN THE OLD TESTAMENT IT IS A SIN - punishable by death.
Genesis 13:13 "But the men of Sodom were wicked and sinners before the LORD exceedingly."
Genesis 19:4-6 "But before they lay down, the men of the city, even the men of Sodom, compassed the house round, both old and young, all the people from every quarter: And they called unto Lot, and said unto him, Where are the men which came in to thee this night? bring them out unto us, that we may know them. And Lot went out at the door unto them, and shut the door after him, and said, I pray you, brethren, do not so wickedly."
Leviticus 18:22, 24 "Thou shalt not lie with mankind, as with womankind: it is abomination...Defile not ye yourselves in any of these things: for in all these the nations are defiled which I cast out before you:"
Leviticus 20:13 "If a man also lie with mankind, as he lieth with a woman, both of them have committed an abomination: they shall surely be put to death; their blood shall be upon them."
BEFORE you say, "that's the law and the Old Testament, and make the mistake of dismissing these texts as irrelevant, you should read 2 Peter 2:6. It was written under the New Covenant, in the age of grace, thousands of years later, and declares how God judged those cities: "And turning the cities of Sodom and Gomorrha into ashes condemned them with an overthrow, making them an ensample unto those that after should live ungodly." Homosexuality is a blatant form of ungodly behavior, not just in the Old Testament but always. Thousands of years later the Lord declares that what He did in condemning and destroying Sodom and Gomorrha was to make an example of them. The example is for whoever coming after them lives in such an ungodly way. KNOW for certain that God considers it SIN, ABOMINATION, hates it, and will surely punish it. You can like it nor not, but you cannot change the truth, the facts, nor alter the judgment of God. You might as well try to blow out the sun or throw rocks at the stars, for all the good it will do!
2 Peter 2:8-9 continues the commentary with these words: "And delivered just Lot, vexed with the filthy conversation [conduct] of the wicked: (For that righteous man dwelling among them, in seeing and hearing, vexed his righteous soul from day to day with their unlawful deeds;)"
· IN THE NEW TESTAMENT IT IS A SIN
Romans chapters 1, 2 and 3 clearly declare this, and point out that the wages of sin is death. This is not a matter of democracy. The will of the people in not involved. Voting and opinions mean nothing here. Protests will change nothing nor will they save anyone. THE WAGES OF SIN IS DEATH.
Romans 1:26-27 "For this cause God gave them up unto vile affections: for even their women did change the natural use into that which is against nature [i.e. lesbianism]: And likewise also the men, leaving the natural use of the woman, burned in their lust one toward another; men with men [i.e. homosexuals] working that which is unseemly, and receiving in themselves that recompence of their error which was meet."
Romans 1:28 "And even as they did not like to retain God in their knowledge, God gave them over to a reprobate mind, to do those things which are not convenient."
Just like in the photo above, homosexuals do not like to retain God in their knowledge, because God tells them clearly that what they are doing is wrong, unnatural, abominable, unseemly, error, vile, wicked, and that they are worthy of death and will be judged and punished eternally unless they repent. So they rebel and say "no God!" instead of repenting and seeking mercy, forgiveness and deliverance from sin, ALL of which God stands ready to give the repentant person who trusts in the Lord Jesus Christ. But as Psalm 14:1 points out, "no God" is the creed of the fool. It is FOOLISHNESS.
IT IS NOT AN "ALTERNATE LIFESTYLE"
· IT IS WICKEDNESS, REBELLION AGAINST GOD'S WILL AND A SIN AGAINST GOD.
· IT IS SIN AGAINST HUMANITY, if everyone were homosexual the human race would die out in one generation.
GOD, THE CREATOR, COMMANDS ALL MEN EVERYWHERE TO REPENT (ACTS 17:30)
· This is not a suggestion, nor a proposal, nor a point of view. It is a demand by the highest authority in the universe.
NO WONDER THESE HOMOSEXUALS HATE GOD. HE DOESN'T TOLERATE THEIR SIN, HE DOESN'T UNCONDITIONALLY ACCEPT THEM, HE DOESN'T DIALOGUE WITH THEM. HE DEMANDS REPENTANCE.
Some may protest with the famous line, "God is a God of love." True, but what does He love? He loves His creatures (John 3:16), and wants to save them from the condemnation they bring upon themselves. But there is more to God's love than this. The Scriptures declare, in Psalm 45:7 and Hebrews 1:8 that God loves righteousness and hates iniquity. There is pardon and forgiveness for those who repent and seek salvation in the Lord Jesus Christ. He died on the Cross bearing our sins in His own body, as our Substitute. God has made provision in Christ's sacrifice on the Cross for the forgiveness of all, yes, even for homosexuals, BUT they must repent and believe the Gospel. If not, they classify themselves among the unrepentant wicked who will have no mercy.
Psalm 5:4-5 declares: "For thou art not a God that hath pleasure in wickedness: neither shall evil dwell with thee. The foolish shall not stand in thy sight: thou hatest all workers of iniquity."
Psalm 7:11-13 declares: "God is angry with the wicked every day. If he turn not, he will whet his sword; he hath bent his bow, and made it ready. He hath also prepared for him the instruments of death; he ordaineth his arrows against the persecutors."
Psalm 9:17 declares: "The wicked shall be turned into hell, and all the nations that forget God."
LET THIS BE A WARNING TO ALL HUMAN GOVERNMENTS. The nations that forget God make laws permitting what God forbids. No nation or organization of United Nations has this right. The nations are beneath God, not on His level nor above Him. He sets up rules and puts them down; He is sovereign over the kings and rulers of the earth, and there will be a penalty to pay for forgetting God.
NO ONE has the authority to legislate "Gay Rights" when God condemns homosexuality as sin.
By Carl Knott